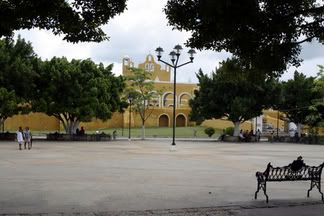 View of the convent from Parque Cinco de Mayo
During the day, vendors set up tents to the right and sell everything from local honey to embroidered dresses to hammocks. In the evenings, after siesta time, other vendors come out and sell snacks and other things. Many locals gather and sit with family and visit with neighbors.
This convent was built with stones from...and on top of a Mayan pyramid.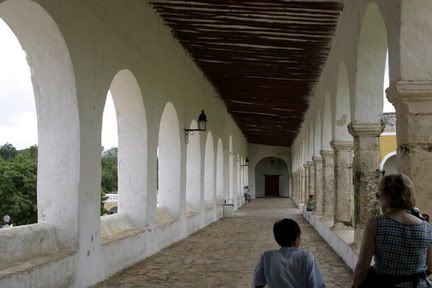 Luís is our guide for this private tour for Valerie and me. It is said by the locals that Luís knows every stone in this convent.
Here, Luís is showing us the time on the sundial in the courtyard. It is 11:40 in the morning on Wednesday, 3 August, 2005.
Luís took this picture...it was his idea! See another Mayan pyramid in the background, just above our heads.